The latest Northern Virginia Transportation Authority survey of Northern Virginia (NoVA) residents shows that the proportion of those who have ever worked from home shot up to 78 percent, from 61 percent before the COVID-19 pandemic, indicating the significant impact that the pandemic has had on travel in the region. These and other trends were captured in the fourth NVTA Transportation Perception Survey of more than 600 NoVA residents presented at the March 10th NVTA meeting. While the pandemic may have shifted results from past surveys, the findings continue to help capture residents' attitudes and behaviors, and inform future analyses, public engagement efforts, and impacts from other potential disruptions.
Proportion and frequency of NoVA respondents working from home
Source: NVTA TransAction 2021 Update: Tracking Changes in Transportation Attitudes and Priorities
Another indicator of the increase in remote working was observed in the change in travel taking place within the same city or county by workers or students. From the first transportation perception survey in 2015, the percentage of those living and working in the same city or county increased from 50 to 71 percent in 2021.
Percentage who live and work in the same city or county (among those employed or students)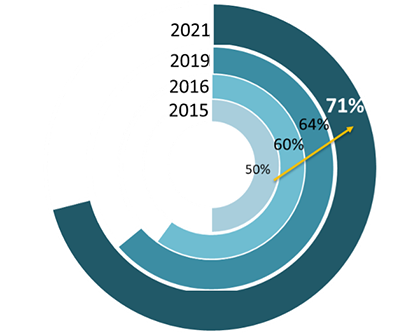 Source: NVTA TransAction 2021 Update: Tracking Changes in Transportation Attitudes and Priorities
The latest perception survey reached 611 NoVA residents (ages 18 and over) from the Counties of Arlington, Fairfax, Loudoun, and Prince William; the Cities of Alexandria, Fairfax, Falls Church, Manassas, and Manassas Park. The survey found that 74 percent of NoVA residents drive when traveling to work. In another set of questions, residents reported a decline in the frequency of travel by public transit, with 13 percent reporting everyday use of public transit, compared to 18 percent pre-pandemic. 33 percent of survey participants reported never using public transit in 2021, up from 29 percent pre-pandemic. Despite this decline in both trips out of the region and the use of public transit, when asked about the importance of investing in regional transportation, 89 percent of residents agree that it is an important priority. In terms of values, the top three quality-of-life issues facing residents include access to affordable housing, access to affordable healthcare, and reducing traffic congestion. Digging deeper, analysis shows that reducing congestion has fallen in priority for Northern Virginians, from 33 percent of respondents ranking it at the top in 2016, to 16 percent in 2021.
Percentage of respondents who say region is doing a mostly "good job" on top priorities

Other insights from the 2021 perception survey include the following:
An increase in perceptions that the NoVA region is doing a "good job" on top priorities has increased to 65 percent from under half (43 percent) in 2015.
More than half (54 percent) of NoVA residents shop online at least once a week, and almost one third (31 percent) shop online multiple times a week. These findings point to increased freight demands on the region's transportation system.
Making sure NoVA's transportation system is safe, well-maintained/will be around a long time, and affordability are the most important priorities. There is room to improve performance on most measures.
The potential transportation improvements that are perceived as most important to the region include new/extended metro rail lines, using the latest technologies and upgrading Bus Rapid Transit (BRT). Interest in new or upgraded bike paths and lanes has increased, with the portion of residents that rated these improvements as very or extremely important increasing from 34 percent to 49 percent since 2019. Expanded use of dynamic pricing has also increased in importance.
News and information gleaned from community meetings doubled (increased 11 percentage points) from the last perception survey, likely a function of increased access through virtual/online meetings.
More than half (58 percent) of respondents who were aware of NVTA rated the organization positively.