Transportation is a major issue in Northern Virginia, affecting everyday life for millions of residents and the economic health of our businesses. To help address these issues, the Northern Virginia Transportation Authority developed a vision for the future of transportation in the region:
"Northern Virginia will plan for, and invest in, a safe, equitable, sustainable, and integrated multimodal transportation system that enhances quality of life, strengthens the economy, and builds resilience."
To achieve that vision for transportation, while improving quality of life for all Northern Virginia residents, NVTA is focused on improving mobility, accessibility, and resiliency across all transportation modes, including roads, transit, walking, and bicycling.
The TransAction goals are aligned with NVTA's core values of equity, sustainability, and safety to ensure that we achieve the regional vision in a way that is consistent with our values. The goals express what we want to achieve, and the core values indicate how we will achieve the goals.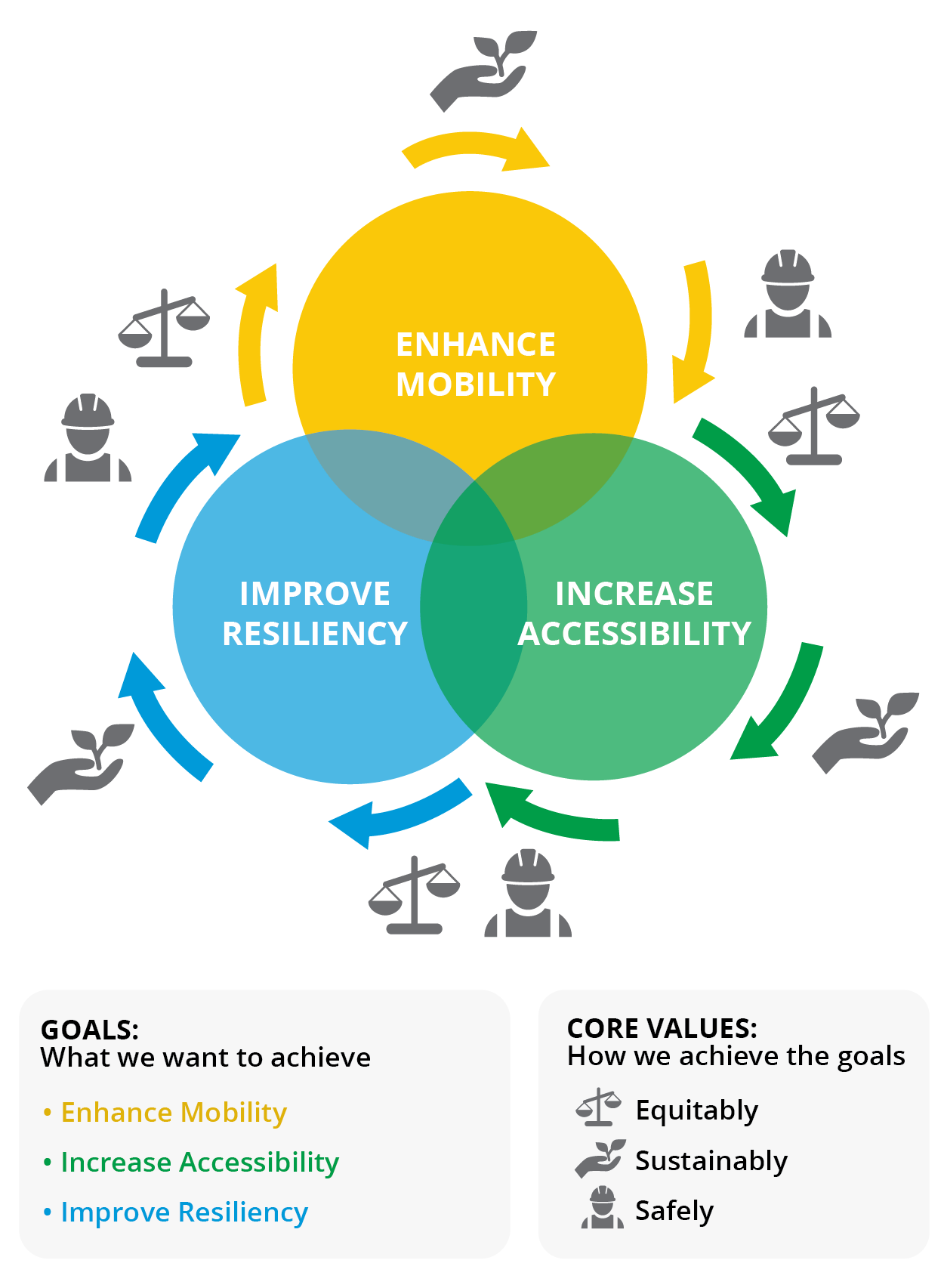 What's Next: Evaluating Projects to Help Improve NoVA's Transportation System
Over the next few months, potential transportation improvement projects will be evaluated based on their ability to help meet our objectives to make the region's transportation system work better for Northern Virginians. A detailed list of NVTA's goals, seven objectives, performance measures, and weights that will be used in the evaluation process are shown below. Ultimately, NVTA will pursue a set of projects that have broad benefits and help achieve the regional transportation vision.
Approved Goals, Objectives and Performance Measures
Goal
Objective
Performance Measure
Weight
Alignment with
Core Values

Mobility:

Enhance quality of life of Northern Virginians by improving performance of the multimodal transportation system
A. Reduce congestion and delay
A1. Total Person-Hours of Delay in autos
10
A2. Total Person-Hours of Delay on Transit
10
B. Improve travel time reliability
B1. Duration of Severe Congestion
10
B2. Transit person-miles in dedicated/priority ROW
10

Accessibility:

Strengthen the region's economy by increasing access to jobs, employees, markets, and destinations for all communities
C. Improve access to jobs
C1. Access to jobs by car, transit, and bike
10
C2. Access to jobs by car, transit, and bike for EEA populations
10
D. Reduce dependence on driving alone by improving conditions for people accessing transit and using other modes
D1. Quality of access to transit and the walk/bike network
15

Resiliency:

Improve the transportation system's ability to anticipate, prepare for, and adapt to changing conditions and withstand, respond to, and recover rapidly from disruptions.

E. Improve safety and security of the multimodal transportation system
E1. Potential for safety and security improvements
10
F. Reduce Transportation related emissions
F1. Vehicle Emissions
10
G. Maintain operations of the regional transportation system during extreme conditions
G1. Transportation System Redundancy
5
Note: Transit may include High Occupancy Vehicles (HOV)