Read the story at FairfaxNews.com
There wasn't much suspense today as the Northern Virginia Transportation Authority (NVTA) released a survey of Northern Virginians' views on transportation.
"The poll provides deep insights into what Northern Virginians think about transportation," said Martin E. Nohe, chairman of the NVTA and a member of the Prince William Board of County Supervisors. "It serves as a reality check on our current transportation system and a compass for actions we should consider to make future travel faster and easier."
Nohe released the results at a news conference near the Route 7 bridge over the Dulles Access Road, a $45 million project funded in part by the NVTA.
"Burdened by the nation's longest commutes, Northern Virginians' reported top priority is reducing trip times, followed by making transportation services more affordable," Nohe said.
The survey is part of developing a "multi-model vision" for transportation improvements and will be used in decided how to allocate more than $1.7 billion in transportation improvements from 2018 through 2023.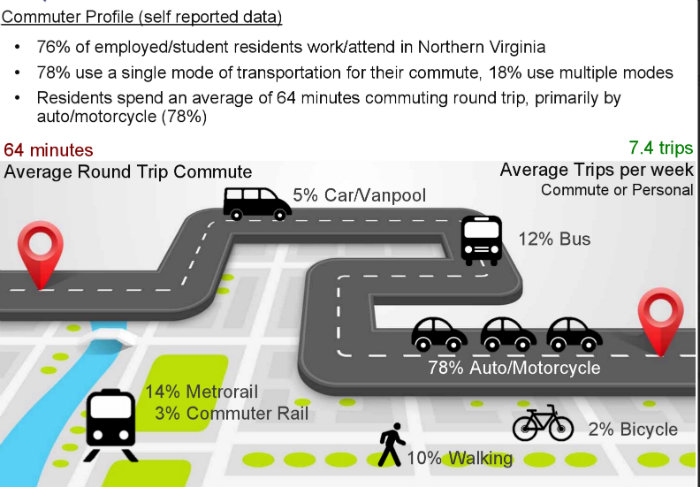 The release of the survey marked the start of the NVTA's initiative to engage the public in updating its plan, dubbed TransAction, which will be the first since the passage of Virginia's 2013 transportation funding bill (HB 2313), a landmark law that provides an estimated $300 million annually in local and regional transportation funding to Northern Virginia.
Fairfax County Board Chairman Sharon Bulova underscored the value of public involvement in the TransAction update: "It is essential we know and understand the views of Northern Virginians on how we should invest in tomorrow's transportation improvements. That's why we're launching an extensive effort to gain broad and representative public feedback."
During the two-year TransAction plan update, the NVTA will use a number of outreach techniques, Nohe said:
A new interactive TransAction-dedicated website: NVTATransAction.org;
Informal "pop-up" meetings, where TransAction team members will engage residents at high-foot-traffic locations such as seasonal festivals and Metro stations;
A range of social media efforts, including Twitter;
Periodic "e-blast" newsletters and other information sent to interested individuals and groups;
Input gathered by the latest online public engagement tools; and
Public hearings.
If all of this sounds like the same old same old, maybe it is but there are at least 1.7 billion reasons why it may accomplish more than so many other plans, notions and bright ideas that float through the atmosphere like pollen.
The NVTA includes the counties of Arlington, Fairfax, Loudoun and Prince William; as well as the cities of Alexandria, Fairfax, Falls Church, Manassas and Manassas Park.